The U.S. Department of Housing and Urban Development (HUD) estimates that 57,849 veterans are homeless on any given night. There are more than 600,000 homeless people in America.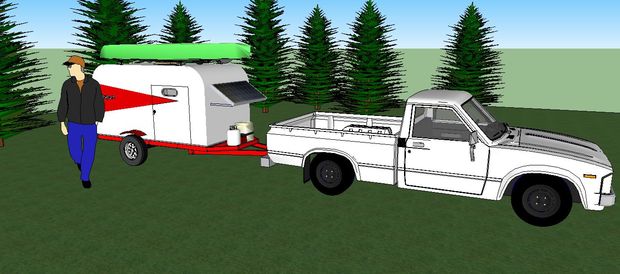 I have posted my homelessness story here on this blog and I know many homeless Veterans and other people. Many have contacted me for the small house designs that are available on the website but others are looking for mobile shelter ideas and that is how I came to design the Vetsport Extreme SIPS Microcamper.
Many homeless people and especially Veterans do not want to be tied to a house and a state and prefer to travel as the mood hits them or while looking for employment so a small inexpensive camper that can be towed with a smaller car or truck would be better for their lifestyle.
Many of these homeless people live in their cars or trucks or sleep in tents and having experienced living in my truck, tents and poorly insulated campers I know that situation is dangerous and uncomfortable in extreme weather. Many homeless people die from exposure to freezing weather or heat stroke every year.
The Vetsport Extreme SIPS Microcamper is designed specifically to handle weather extremes and it utilizes SIPS Structural Insulated Panels System to produce a 4 inch camper wall and ceiling with R18 insulation value ( more than many houses have.) It can be heated with just body temperature or with a small Buddy style propane heater designed for indoor use. The super insulation, white roof and vents also keeps the microcamper cool in summer if parked under some trees.
The Vetsport is also super strong with steel roof braces and a 4 inch roof and can hold kayaks, mountain bikes, and other camping gear that would crush a teardrop camper. The racks can also be used for carrying sheets of building material and the interior of the camper can be used for hauling supplies to your homesteads or campgrounds.
The Vetsport is a great camper for people that need a small camper for their outback adventures or can be used as a shelter for Veterans and other homeless people for long term living situations. 
Best of all it is inexpensive to build with basic tools by people with basic construction experience and I provide the step-by-step plans to make it easy to construct.
You can see more images and download the plans here:
http//www.simplesolarhomesteading.com/vetsportmicrocamper.htm

If you are a homeless veteran contact me and I will supply the plans free of charge!
-LaMar