| | |
| --- | --- |
| Posted on June 25, 2014 at 12:35 PM | |
This is another of my designs that can be built inexpensively and is built for extreme weather and year round living.
32 Skidoo Gypsy Wagon: Worlds Smallest House On Wheels!
This design is still in development but here is a sneak peek.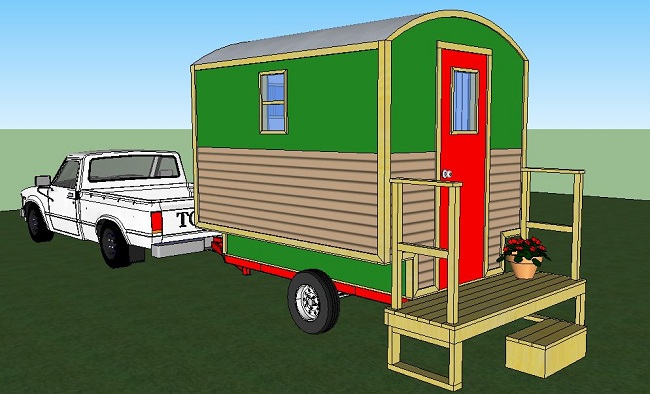 32 Skidoo Gypsy Wagon is the world's smallest off-grid self contained house on wheels that is insulated for year round living and includes a kitchen with sink and stove, bathroom with shower, toilet and sink, twin bed and single bed and even space for a micro-washing machine all in just a 32 square feet footprint on a 4x8 trailer. Best of all it utilizes SIPS Structural Insulated Panels System construction for a super insulated and super light inexpensive house.
The cost of an average house-on-wheels is around $20,000 and most of that is put into an expensive trailer because it has to hold a lot of weight and the weight comes from using 2x4 construction with standard appliances.
The 32 Skidoo utilizes SIPS Structural Insulated Panel System and is designed with 2 inch lumber walls and minimum lumber greatly reducing the weight of the structure and size and axle weight of the trailer used. It utilizes Owens Corning Foamular AR 150 with an R-10 insulation rating. The house is fully insulated floor to ceiling and tightly sealed so it is built for year round living in even extreme climates and can be heated with a very small propane furnace.
The 32 Skidoo is inspired by the Gypsy Wagon and Sheepherder Wagon style to incorporate under bed storage and all of the features you would need for long term living in an eye-pleasing house that can be moved with just a small vehicle. It could even be built into the back of a larger truck bed or utilize camper jacks to be taken off the trailer if desired.
The purpose of the 32 Skidoo is to provide a permanent living solution that can be built by anyone and is much less expensive than most houses on wheels while providing all the necessary and desired living conveniences in a package that can be towed where you want to live or placed in a small house community, used for camping or for permanent off-grid living.
The plans are still in the development stage and I will release the full ebook step-by-step plans, 3D modifiable Sketchup and it will include solar power options and appliance recommendations.
Subscribe to this website to be informed when the plans are available!